The Sunrise House is Family and Large Group Friendly just 10 Minutes from KSU
Property overview
House

3001

sq. ft.

Sleeps: 24

Bedrooms: 5

Bathrooms: 3

Min Stay: 2 nights
5 Bedrooms, 3 Bathrooms with Beautiful Sunrise Prairie Views
Tour this property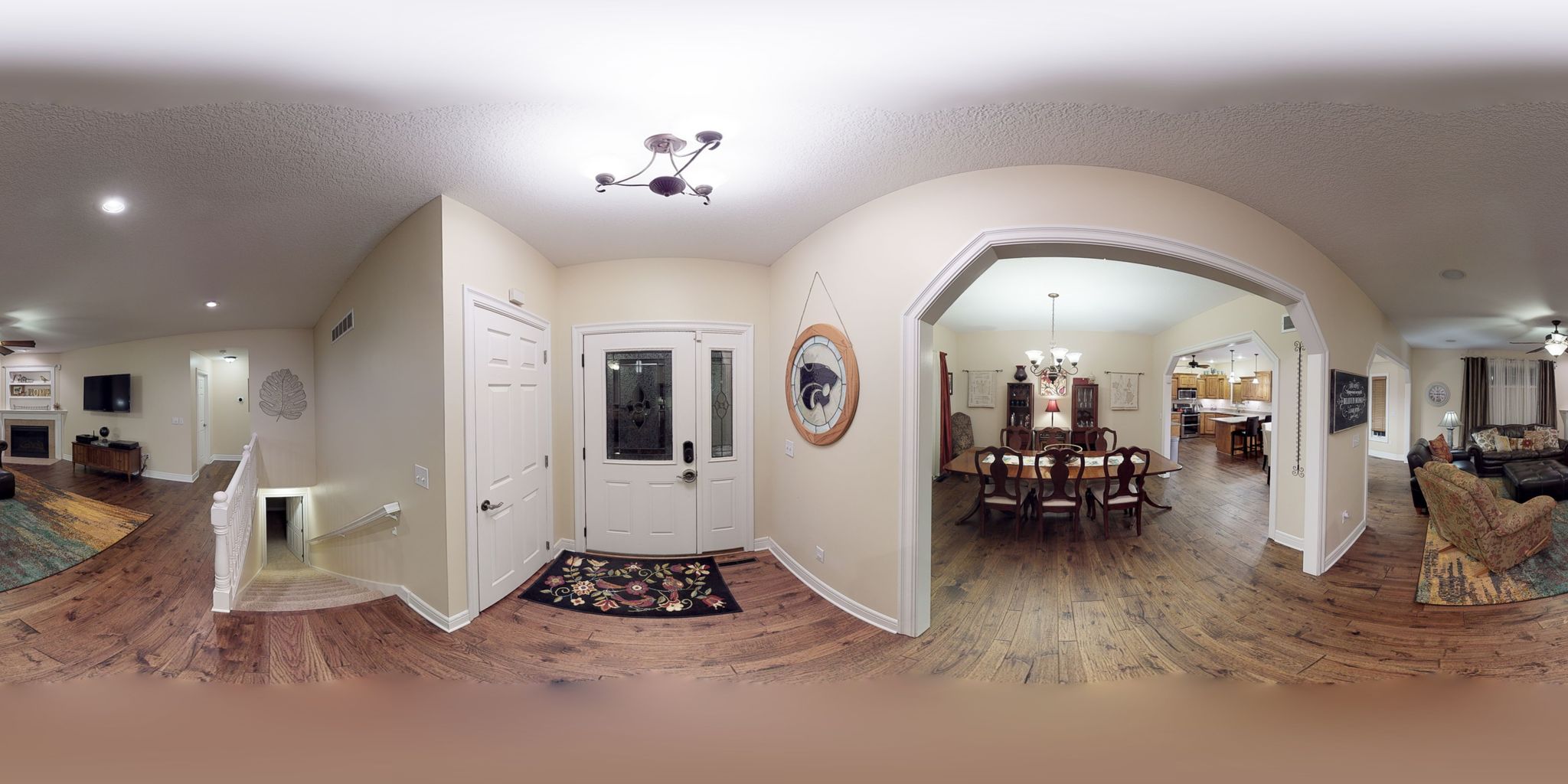 Owner
Ask a question
Jennifer Brock
Member Since 2016
About Jennifer Brock
Hi! My name is Jennifer Brock. My husband, Clint, and I own this property with my mother, Sherry. I am a stay-at-home mom and we have two children. Clint is a Detective and has been in law enforcement for 10+ years. My mom, Sherry, is a high school english teacher and has been in education for almost 40 years. We are Western Kansas born and raised. Prior to 2005, we operated a large family farm and ranch.
Jennifer Brock purchased this House in 2013
Why Jennifer Brock chose Manhattan
As life long KSU fans and various sport season ticket holders, we spend a lot of time in Manhattan. We consider it to be our second home. We purchased this property primarily to spend more time with our family. Our day jobs keep us very busy and the time we do get with those closest to us is very important. Manhattan offers us time away from everything else. My mom and I both are K-Staters. My brother is currently a student. Clint has quickly adjusted to wearing lots of purple. We love what Manhattan has become and what it has to offer. The topography is beautiful and so much different that the flat rolling hills we are used to. It is wonderful to visit an area with so many trees and nearby water sources. We chose this specific home because of its location and privacy. The west side of town is easily accessible in a 5 minute car ride. We can hop in the car and quickly arrive at Bill Snyder Family Stadium for a football game or at Ahearn Fieldhouse to watch the volleycats play. We love spending Halloween at the Sunnrise house as our neighborhood is the perfect trick-or-treat spot and we take full advantage of the two local pumpkin patches. In the winter and spring, we often travel to Manhattan to celebrate birthdays, attend basketball games at Bramlage Coliseum or catch a baseball game with the batcats at Tointon Family Stadium. We take the whole family on visits to Tuttle Creek State Park, City Park, The Flint Hills Discovery Center, The Strecker Nelson Art Gallery, The Beach Museum of Art, The Konza Prairie Research Natural Area and The Sunset Zoo. Clint often catches a round of golf at Colbert Hills with friends. When time allows, we get a babysitter and the adults go out for dinner. A 10-minute car ride takes us to Historic Downtown Manhattan or Aggieville. A visit to the Liquid Art Winery and Estate is also a great option for some adult only time. We always have more to do than time allotted. It's not a terrible problem to have!
What makes this House unique
Being from Western Kansas, we appreciate a great sunrise. That is one reason this house stood out to us. The morning sunrise with the beautiful green prairie below offers the most amazing view from the porch. I look forward to seeing it every time we are in Manhattan. When the kids were smaller, I often stayed behind during football games. Being able to listen to the games on the whole-house stereo system was something I always took advantage of. We use this feature every time we visit. We especially love the space that this house provides. Our extended family is able to join us for Manhattan weekends and holidays without anyone feeling like they are crowded. The large open great room upstairs lets all of us interact wether we're watching a game or preparing a meal. The family room downstairs is crucial for keeping all the kiddos entertained. They play for hours without any mention of boredom. We adore this house and we hope you and your family do to.
Amenities
Featured
Satellite or Cable

TV

Air Conditioning

Children Welcome

Heater

Washer & Dryer

Parking

Fireplace

Internet
House Rules
Check-in: 4:00 PM
Check-out: 12:00 PM
Children allowed
Toys! Games! Books! Outdoor play area!
Minimum age of primary renter:20
Max guests:24
Cancellation Policy
100% refund if canceled at least 30 days before arrival date. 50% refund if canceled at least 14 days before arrival date.
Reviews
1–6 of 21
The Perfect VRBO
If this VRBO did not have it, you do not need it. - ever! The best equipped VRBO in which we have stayed. Immaculate, in a great neighborhood and perfect for our group of three couples. Six stars!
Owner's Response:
We're so happy our home met all of your needs. We strive to make it the best it can be. Thank you for staying with us! We hope to see you again.
Daughter's wedding
We needed a place to prepare for our daughter's wedding, as most of us live elsewhere, but having a Manhattan wedding. The Sunrise house was even better than I imagined! I put up the bridesmaids, and they had the whole basement to themselves. Quiet neighborhood, the house was furnished with everything you could need. Comfy beds, plenty of space.
If we gather again in Manhattan, I'd love to stay here again.
Owner's Response:
Thank you so much for your kind words, Lori! We're so happy that The Sunrise House fit your needs. We would love to welcome you back anytime!
Christmas in July - Olson Family
This home surpassed our expectations. Great host and facility.
Great house for family time!
This house is perfect for a family gathering. We celebrated Thanksgiving with my extended family and had a great time. Fully stocked kitchen, extra toiletries and baby items in case you forgot something, lots of toys and games downstairs and a Target about 5 minutes away if anything additional is needed. The service we got from the property manager was excellent, she went above and beyond to make sure our stay was comfortable and enjoyable!
Very nice had everything we needed we had a family reunion 18 of us 8 adults and 8 children had a gr
House was perfect great location lots of games for kids and lots of beds and house was well stocked with everything you would need the owner is very pleasant and friendly I would stay there again
The Sunset House met our needs perfectly!
We rented the Sunset House to make sure we had enough room for our family for my daughter's wedding at the Liquid Art Winery. The house met our needs perfectly with plenty of room for the 10 adults who stayed there. We also hosted a spaghetti dinner as a low-key way to allow the two families to meet each other and the house provided a wonderful space for that to happen. Jennifer is a fantastic owner, allowing me to enter the house a bit early the first day to figure out the sleeping arrangements. Her house was the best stocked of all the homes we have rented previously. Plenty of pots, pans, dishes, and glasses. If you are looking for a home for your family to have the space to relax and enjoy - you won't go wrong with the Sunset House!
Owner's Response:
Thank you so much for staying with us! We're so glad that all the amenities addressed your needs. We work hard to make sure our home is well stocked and comfortable for all our guests.
1–6 of 21
Map
Located in a quiet neighborhood overlooking the beautiful Kansas prairie, The Sunrise House is an ideal place for a family getaway. Entertainment options abound as it is located minutes from Colbert Hills Golf Course, Kansas State University, Bill Synder Family Stadium, Aggieville, Historic Downtown Manhattan, The Sunset Zoo, Tuttle Creek State Park and The Liquid Art Winery and Estate. Numerous other activities are available within 5-20 minutes of The Sunrise House.