Mickey Pool! Theater Room! SPLASH PAD! Free Pool Heat! Free WiFi!
Property overview
Villa

4000

sq. ft.

Sleeps: 14

Bedrooms: 7

Bathrooms: 6

Min Stay: 3–7 nights
7 Bed, 6 Bath - 3 Miles to Disney
Tour this property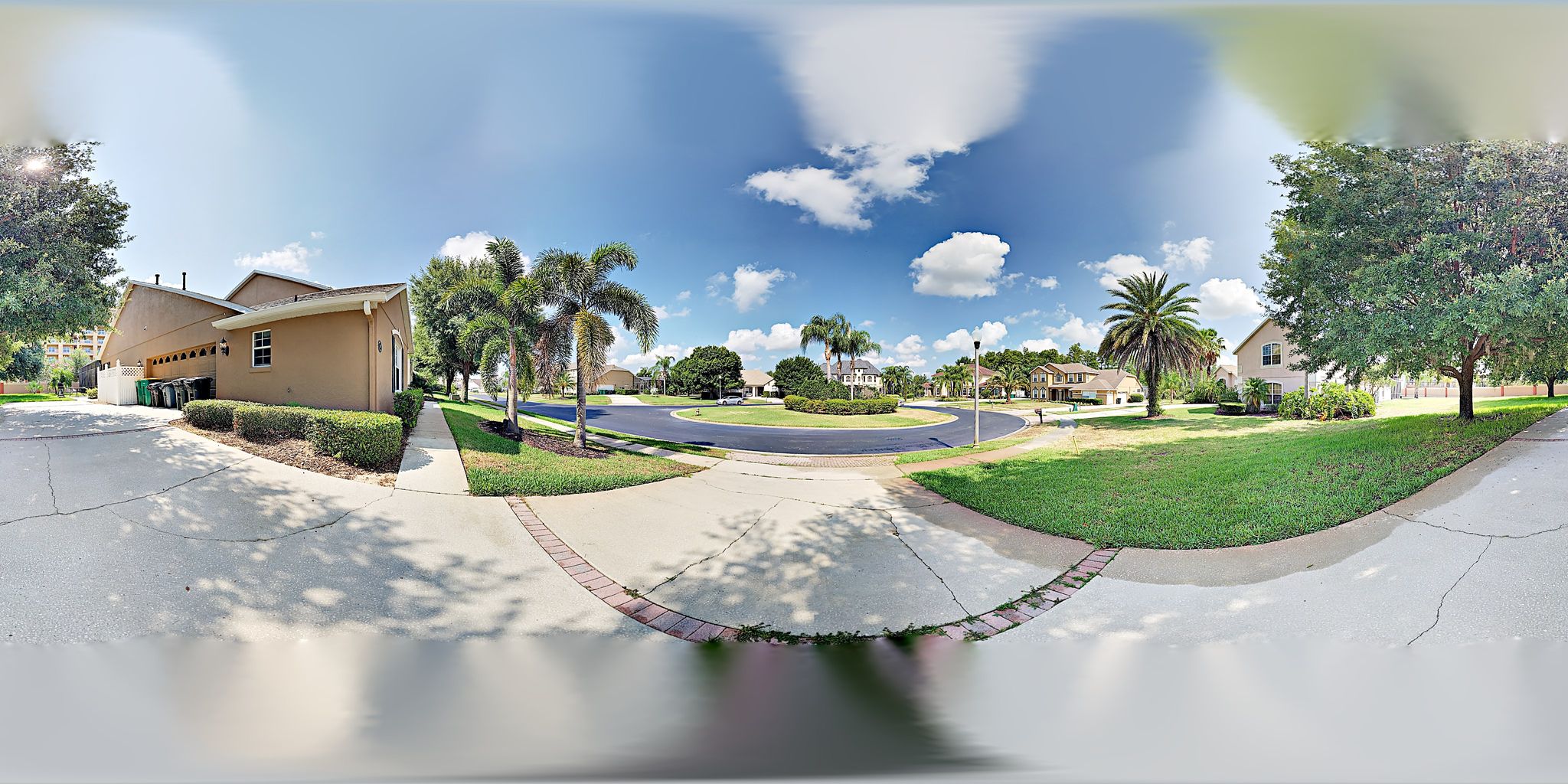 Amenities
Featured
Children Welcome

Washer & Dryer

TV

Satellite or Cable

Internet

Air Conditioning

Swimming pool

Parking

Heater

Hot Tub
House Rules
Check-in: 4:00 PM
Check-out: 10:00 AM
Minimum age of primary renter:28
Max guests:14
There is a cancellation policy. Please contact Wendy (owner) to obtain a copy.
All bookings require a signed rental agreement (provided directly from owner) where the terms supersede any conditions stipulated by this website.
Pages 2 and 3 of signed rental agreement (provided by Wendy) must be returned to Wendy within five business days.
Cancellation Policy
Canceled bookings will not receive a refund
Reviews
1–6 of 39
Our family (14 in all) enjoyed a wonderful vacation together in your beautiful home
A few things could have been better. The dishwasher needs replaced. The tree outside is very dirty on your vehicles. The shower door in the white bedroom needs fixing. For a family of 14 the fridge did not work well. Very inconvenient. A second fridge needs to be installed somewhere, for drinks etc. Overall we had a great time at your home. Would recommend to anyone
Owner's Response:
I am so happy to hear that you had a wonderful vacation!
In the check-in details, we ask that guests inform us as soon as possible of any issues that need attention. The shower door would have immediately been repaired had we been notified. The dishwasher is fairly new. It does need to be closed firmly in order to operate correctly. There is a sign stating this on the appliance. You arrived during the beginning of pollen season in Florida, therefore the trees are producing an abundance of pollen at this time. :( We appreciate your referrals, and would love to have you stay with us again!
Mickey's Oasis is a wonderfully comfortable and spacious home in which to stay.
The villa is located on a lovely development and our family thoroughly enjoyed the holiday. They enjoyed the pool, the theatre room and the living areas. It is just a short distance from the parks and a welcome sight when we returned after the bustle and heat of the Magic Kingdom etc.
There are plenty of shops for provisions nearby. We would not hesitate to recommend Mickey's Oasis.
Owner's Response:
Thank you so much for your kind words, Ian! We are so happy you had a nice vacation and enjoyed our home. I hope you come back to stay again.
The house was amazing, our whole family really enjoyed our stay. Everything was picture perfect.
Superb house, beautiful location. The pool was amazing! The house was to perfection. We will definitely be back!!
Owner's Response:
It always makes me so happy to hear that one of our homes helped make someone's vacation so enjoyable. I am thrilled that you had such a nice time! Looking forward to your return!
Great location and pool area!
Overall, this was a fabulous stay with the exception of the issue of the a/c not functioning properly the first couple of days. I was less then impressed with the initial response on day 1 from the property manager of the explanation that "it's just going to be hot during the afternoons, but will cool off in the evening". I DO; however, appreciate the owner's response once she was notified and had an HVAC person respond. Amazingly enough I was not crazy and the unit needed a freon charge. Once that was done, it worked fine-even in the extreme heat!
Beautiful, Fun, Clean Home
We had such a great stay at Mickey's Oasis! Everything was perfect!
The children loved the themed rooms, mickey pool and splash pad. We all enjoyed the theatre room! The kitchen was well stocked with pots, pans, dishes and cutlery.
The owner, Wendy is very helpful and accommodating.
If you are going to Disney, this is the place to stay!
Thank you so much!
The Robinson's
May, 2018
Owner's Response:
So happy to know that you had such a nice time!
We loved having you stay at Mickey's Oasis, and look forward to your return!
Wendy
Great location, pool
We rented this property for a 5 night Disney trip with 5 adults and 2 toddlers aged 1 and 2. Location and pool/covered patio were the two best features for the house. Overall, a very nice property. Close to shopping, restaurants, and parks. Two of the three en suites on the first floor were very nice, one was not (no closet, one endtable, small bathroom).
Opportunities for improvement could be to consolidate the remotes for tvs (too many), bath and pool towels were a bit run down, garbage bin in kitchen is too small (didn't fill up a 13 gallon bag past 2/3 full) Otherwise, everything is as described and will meet expectations.
Thanks!
Owner's Response:
Hello! So happy you were pleased with our home and the lovely amenities.
I appreciate all of the feedback. I am actually heading down there later this month to do an inventory and replace necessary items. Thank you for letting me know. Please come back again!
Wendy
1–6 of 39